I received the Zeiss LRP S5 3-18 X 50 for review. Unfortunately, it arrived too late to take on my daughter's late elk hunt. But, it didn't take long once I put my hands on it to realize the quality of the scope. The LRP S5 is heavier than the V4 line of scopes I have reviewed. 32.6 ounces versus 24. It is short in length, however is fairly bulky due to the huge turrets and It's a 34 mm tube.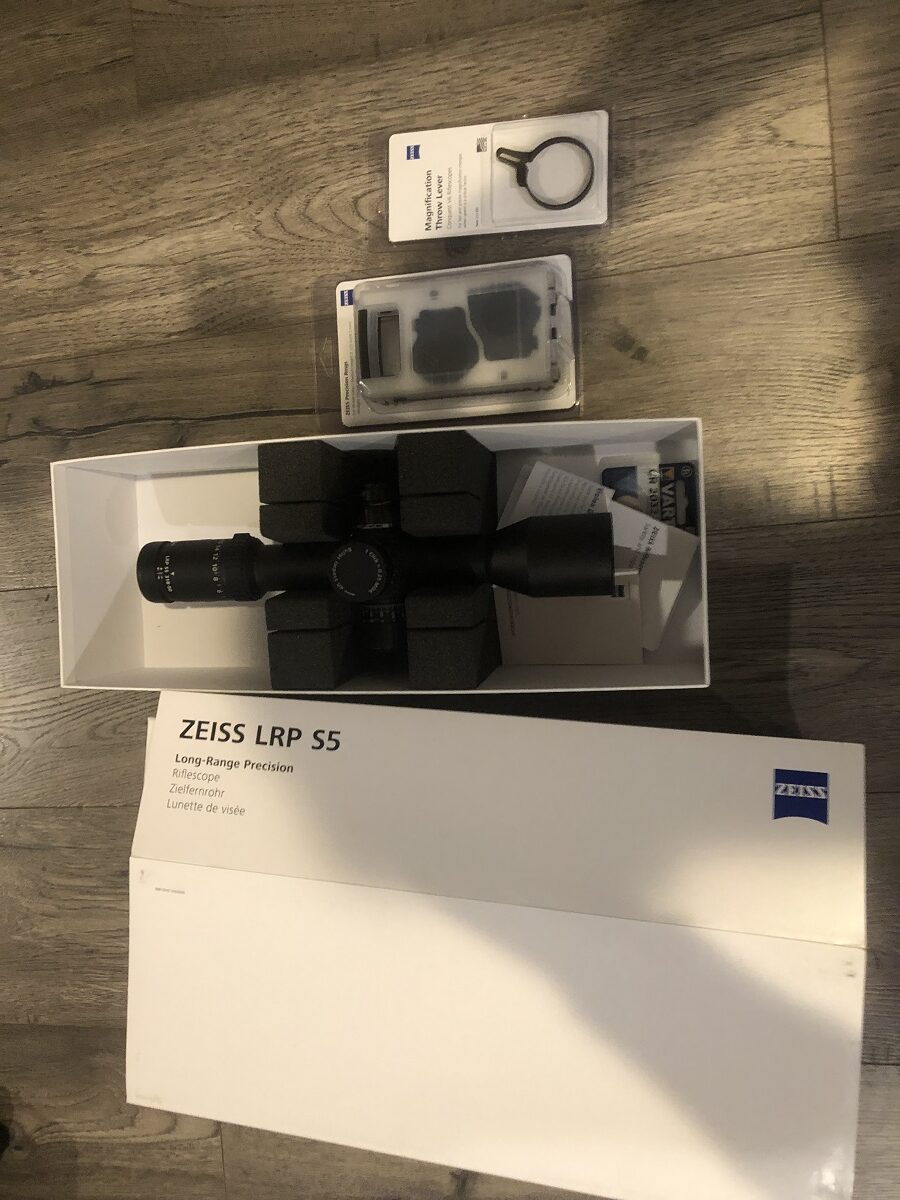 Zeiss LRP S5 3-18×50 Features
ZF-MOAi Reticle
LotuTec®. A protective exterior lens coating for ZEISS optics enables a clearer and unhindered view in all weather conditions. It helps to repel rain, snow, dust, and fingerprints and makes lens cleaning easily
Daylight visible illuminated reticle
Digitally controlled diffractive reticle illumination technology delivers an exceptionally bright point of aim – regardless of the amount of incoming light
Premium optical design with Fluoride Glass
140 MOA of total elevation travel in a 34 mm main tube, European-style fast-focus eyepiece, Ballistic Stop elevation turret (with 40.7 MRAD or 140 MOA of total elevation travel), and an external locking windage turret.
Oversized turrets help for easy adjustment even in cold temps with bulky gloves on.
SCHOTT glass

Mounting and Setting Zero Stop
I mounted it on my trusty 6.5 PRC using the provided Zeiss rings which I have used on several rifle scope combinations and never have had an issue with. Next, I took it to the range and quickly zeroed it. I set the zero stop which was the easiest zero stop I have ever set.
You just loosen the two set screws, then push down until it stops, while holding in the downward position, turn clockwise until it comes to a hard stop (aligned at zero), and while holding it place, tighten the two set screws. You're done – and in about 20 seconds or less.  (Note: the turret still 'clicks' even with the set screws loosened; but it is not adjusting the reticle at this stage.)
Zeiss LRP 5S Turrets
The windage turret has a locking turret. To zero, loosen the two set screws and turn to zero then retighten. To lock, just push in. It locks very solidly and doesn't seem like it would accidentally get unlocked. The caps never come off on either elevation turret or windage. Both are easy to adjust with oversized turrets and have solid audible clicks. More info here.
During some subzero temps later during testing, I dialed easily using bulky, heavyweight gloves. I could still feel the clicks and due to the size of the turrets, I could see what I was dialing.
The elevation turret is numbered from zero to 60 MOA. And, features 30 MOA per revolution in large easy-to-see numbering. I had 82 MOA of adjustment up and could easily go more if I had a different rail. That will take it out to 2200 yards without the reticle on my 300 RUM.
Tracking
I did a box and tall target test multiple times and it performed perfectly. The reticle lined up perfectly with the tall target as expected at multiple powers as this is a first focal plane scope.  Being that I already had all the tried-and-true dope for the rifle. I quickly shot from 400 out to 1150. It was dead on at each distance. Parallax adjustment was excellent; it has a little knob that allows it to turn in cold conditions.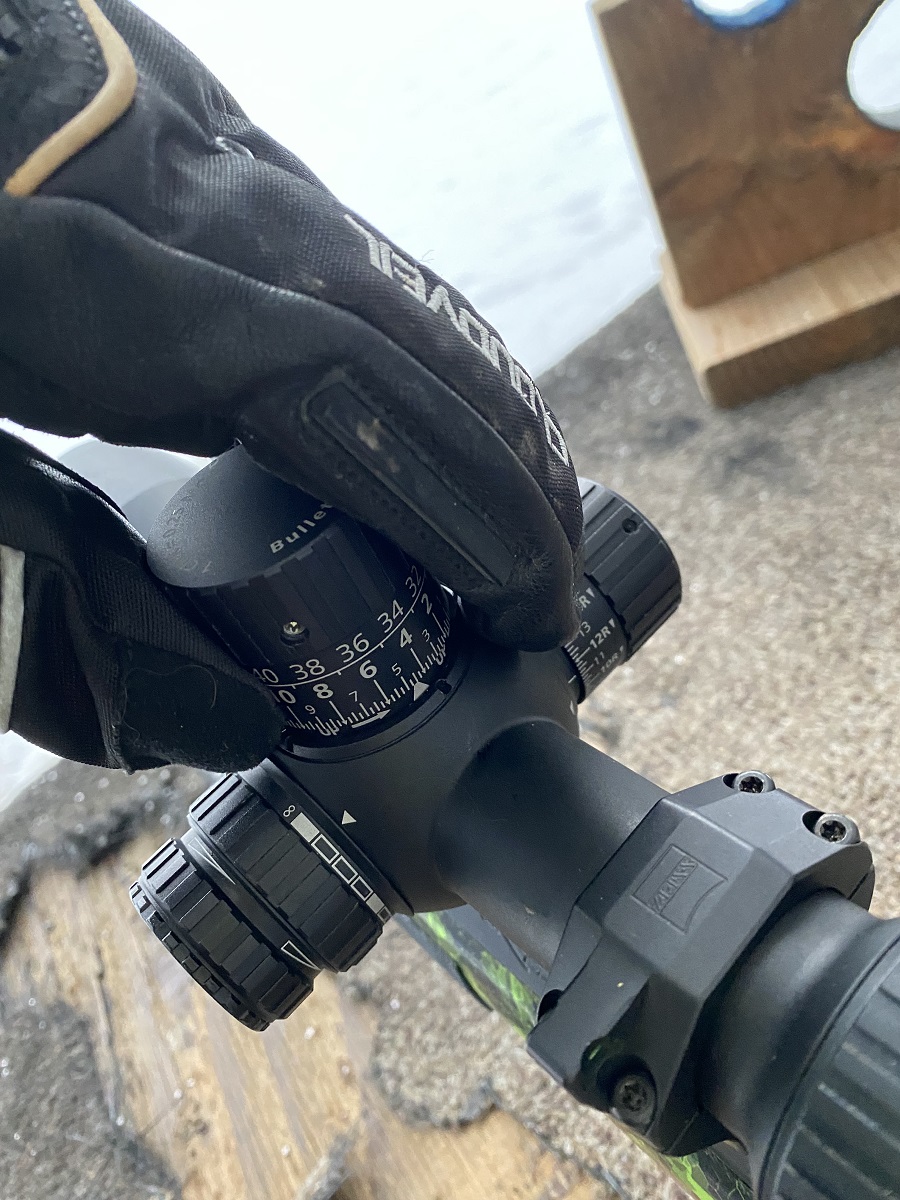 Illuminated ZF- MOAi Christmas Tree Reticle
One different thing was the illuminated reticle. You pull out the knob and turn it up or down; no in-between on/offs. It was super clear and bright. Even in full daylight on a bright sunny day in a snowfield, it was easily visible.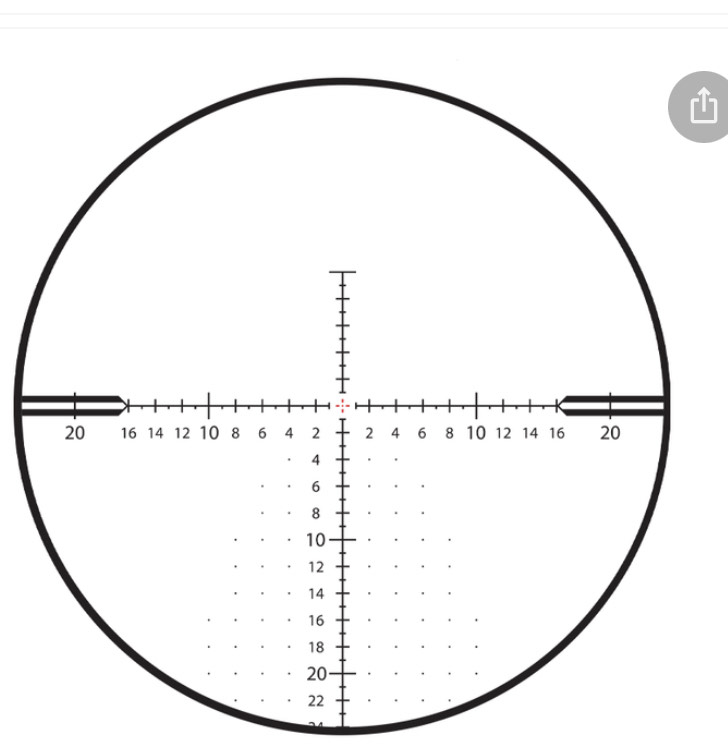 I liked the ZF- MOAi Christmas tree reticle. Some Christmas tree reticles are very busy not this one. I didn't notice the dots in the tree unless I specifically look at them. There are hashes every MOA out to 30.
One thing however I wish the center dot had a little more distance away from the hashes next to it. They are bunched closely which makes it just a little harder to separate when shooting small targets at closer range. When I was shooting at long ranges, it didn't bother me. If anything, it helped.  It seems to be better on the 25-power model. Not bad however and still allows for great 100-yard groups. The ZF-MRi reticle doesn't have this issue.
Glass Quality
Now, what sets this scope apart is the top-quality glass. Clarity is on a different level. I got to run it next to several other good long-range scopes including my NXS night force and V4 Zeiss. No comparison. This scope is on a whole different level. I looked into shady areas inside the timber at long ranges and the brightness and clarity difference was big. Low light? It was awesome. I never have had an issue with the other mentioned scopes at lowlight, however the LRP is noticeably better.
Zeiss Lotuec Coating
The Lotuec coating is nice and works.  I hate it when in cold weather when my breath fogs up whatever scope. When I breathed on it, I watched it clear up in seconds. It also helped when I was in a wet snow/rain mix, the moisture beaded up fairly quickly allowing me to see my targets very well. This is a good feature with such high-quality glass as I don't want to wipe the lenses in the heat of the moment, besides the risk of scratching them.
Impact Testing
The LRP is rated to withstand an impact G force of 1500. It is very stout and seems like it would hold up well. For the drop test portion of this review, I mounted the LRP on a tack-driving 6 Creedmoor.  I shot my first 100-yard shot, then dropped the rifle squarely on the parallax knob.  I shot again, then dropped it on the elevation turret, shot again, dropped it on the windage turret, then shot my fourth shot.  All shots were one right after each other.  The LRP performed perfectly, to say the least, just a ragged 4-shot hole. Drop Video:
I doubt most of us will drop rifles in the field as hard. This gives very good confidence in the scope's ability to stay true. I know when on a big hunt and I drop a rifle on a scope, I'm not at ease until I shoot to confirm zero.  That is not always a good idea or possible in some circumstances, especially for a long-range shooter where zero has to be zero, not just a stump at 25 yards on the side of a hill.
The test also said something about the Zeiss rings. After the cringeworthy thuds I heard when it dropped, I was sure there was some movement somewhere, but there wasn't. I ended up trying it out on a few different rifles over the past couple of months. The LRP was quick to zero and dialed true every time.
Continuously Impressed
The more I brought it out, the more I grew to appreciate the glass. I usually video my long-range shots with my Swarovski 20-65 spotting scope and phone scope so I can see the hits on targets. When I'm shooting my RUM, I often don't get back on target quick enough to see the hit. With the LRP I was shooting at a rock at long range and I got back on target each time and saw the hits. When I watched the video, the hits were so faint that if I hadn't seen the shots hit in the scope, I would have thought I missed.
A couple of things I noticed and it may be just me but the high-end glass seems to be a lot more stable on target at long range. I felt that I held on target with less movement than I'm used to.  I also noticed the clarity when looking at long ranges was on par with my Swarovski spotter. When I spotted some elk at a mile-and-a-half in the timber, I put the scope on them I could see them very well in high detail. It made me think that the scope could be useful in place of a spotting scope.
I'd still never go without my tripod and spotter because I use it to glass. However, I know there are a lot of people on the fence about carrying a spotter. This scope, or better yet the 25-power option, could be awesome for someone not wanting to carry a spotter. I'm not saying it will take the place of glassing a lot of country, but just for looking at specific spots or animals to identify as stalk worthy.
Conclusion
This scope is not for everyone with its price point at $3299.99. It is for those who want the best. When compared to others with the same high-quality glass, it stands out with some features the others can't match including its extreme elevation adjustment. Overall, it is a great scope with a lot to like and very little to complain about as you would expect from a scope in its price range. Available at 1 Shot Gear.
Comment on this review or ask Jim questions here.
You may also like these scope reviews: