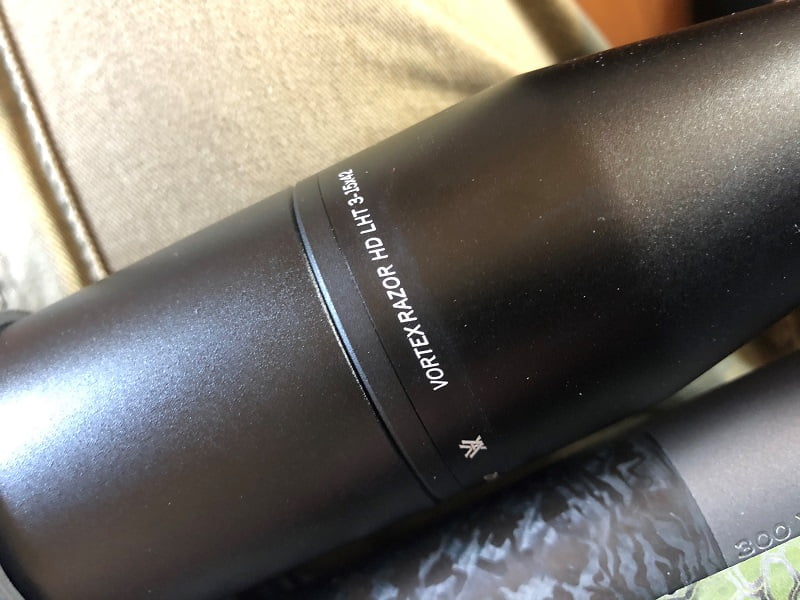 Vortex Razor HD LHT 3-15X42
Vortex Optics has a plethora of riflescopes on the market today and it can get a little confusing for some when it comes to choosing which riflescope is best for them. The most asked question I field in regards to optics is, "Which riflescope should I get?!" My answer is usually accompanied by several questions to get the end-user qualified in order to figure out what scope will fit them and their wants. It has been nearly four years since I completed my review of the Razor HD LH 3-15X42mm. I was excited to give the Vortex Razor HD LHT a try because a lot can change it seems in four years!
The 2020 Vortex Razor HD LHT comes in two configurations of either 42mm or 50mm with a 3-15 power adjustment. The MSRP is $1399.99 for the 42mm or $1499.99 for the 50mm option. You also have the option to choose between MOA or MRAD reticles. The Razor name always has HD glass that we all prefer and this scope now comes with added features as well.  This is a second focal plane scope with a red illuminated center dot providing a precise point of aim for the shooter. Also included is a sunshade that seems to be a common addition to nearly all scopes and has the option to use their patented RevStop Zero System.
First Impression
When I received the Vortex Razor HD LHT in the mail I was excited once again to open the box. This would be a scope that was very similar to my last review four years ago but with more technology and advancements. It just so happened that my mountain rifle was in need of a lighter riflescope and this filled that void for me. It was much lighter than what I had on the rifle previously which my body was sure to thank me for at a later date! At 19.1 ounces it was sure to compliment my mountain rifle well! I was a little concerned to step down to 42mm from 50mm as I didn't know how well it would gather light.
The craftsmanship of the Razor HD LHT is as good as it has always been with refined lines and easy to read information on the turrets and power ring. I was a little irritated with how hard the 3-15X power ring moved. It required a bit more assertion than I like, especially when cold. I suppose this could be addressed by adding a throw lever but shouldn't be needed in my opinion.
Construction
As described by Vortex the scope incorporates HD (High Density) extra-low dispersion glass, an APO apochromatic lens system, fully multi-coated lenses combine to deliver stunning image quality and durability. Sharp resolution from edge to edge with 3.8 inches of eye relief. APO lens system uses index match lenses to correct color across the visual spectrum. XR Plus premium lenses deliver the highest light transmission for maximum brightness. The coating they use repels anything that may come in contact with the lenses and resists scratching.
The tube is machined from a single solid block of aircraft-grade aluminum which takes away chances for additional leaks. It is filled with argon gas to help with fogging and waterproofing. O-ring seals are used throughout to prevent moisture and dust from entering the housing. It is finished off with a hard matte black anodized finish that is meant to be durable as well as cut down on glare.
Vortex Razor HD LHT Reticle
The HSR-5i (MOA) reticle is ideal for those who want enough information to utilize personalized ballistics, but prefer a clean look. The HSR-5i reticle can be used to effectively determine ranges, holdovers, windage corrections, and moving target leads. The fine center crosshair subtensions on the reticle were carefully chosen to provide the optimum balance between precision aiming and low light visibility. The reticle is super clean, yet highly versatile, for optimal target acquisition and pinpoint accuracy.
HSR-5i (MOA) Reticle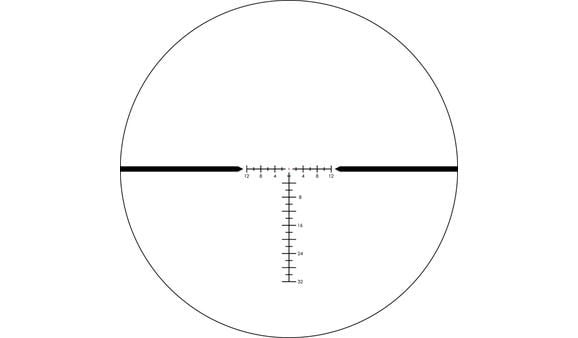 Sighting In The Vortex Razor HD LHT
I quickly mounted up the scope, bore-sighted it, and looked forward to getting to the range. Then, I added their Defender scope caps to help keep it protected as well. I make sure I put these on all my scopes and use their precision matched 30mm rings as well. Within 6 shots I was hitting the center of my target with a 200 yard zero. I inserted the RevStop ring inside the turret as per the instructions and was ready to go on a hunt.
Razor HD LHT RevStop
When inserting the RevStop it also allows you 5 clicks down for closer than 200-yard shots. This would come in handy when in tight quarters on the hunt where the shot was expected to be closer. The only downfall I see in this is if you forget to turn that back and think you are zeroed at 200 yards and take a shot before adjusting. This will throw your shot off but you should catch it if you are dialing in for a specific MOA or range using the turret. The turrets are easy to use and have very noticeable clicks when moving them in either direction to help you keep track of movement if needed.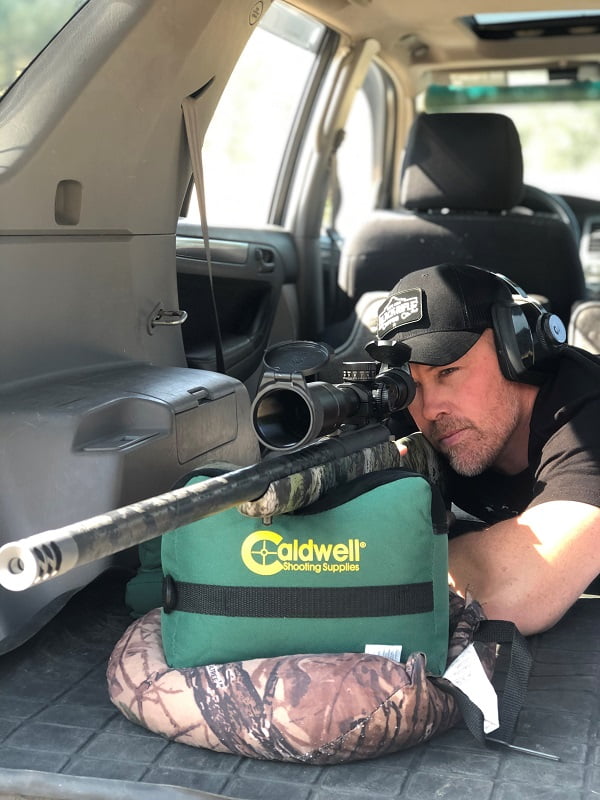 The HD optical system of the scope delivered great resolution and it is advertised to cut chromatic aberration and provide better color fidelity, edge to edge sharpness, and light transmission.
Illuminated Center Dot
The red illuminated center dot was handy and it really provided a good aiming point with several intensity settings and automatically will shut off after 6 hours if you forget. It is turned on by an easy press of the center button on the parallax adjustment on the left side of the scope. There was a little bleed out to other numbers within the reticle which I didn't like but it wasn't anywhere near the center dot. It was all the way right on the 10 within the reticle. Something they should look into fixing as bleed off to other parts of the reticle can be a hindrance.
I have been using mostly first focal plane scopes up until now so I had to remember this was different.  Second focal plane means that the scale of the reticle maintains the same ideally-sized appearance. The listed reticle subtensions used for estimating range, holdover, and wind drift correction are accurate at the highest magnification. This usually isn't a problem for me as I like to shoot at max magnification.
While shooting I backed off to 500 yards and dialed the reticle to match what I should shoot for MOA at 500 yards which was approximately 6.5 MOA and took a shot. I then dialed back to my 200-yard zero and used just the reticle to match the 6.5 MOA of which I just dialed and took another shot. Both shots were within 2.2" to which could have been movement on my behalf as well. Either way, it proved accuracy between dialing MOA with the turret as well as just using the reticle MOA numbers.
Field Testing
I used this riflescope on numerous hunts and really enjoyed how much lighter it made my rifle as it was very noticeable since I literally lost about 20 ounces in doing so! I did take quite a spill when I stepped on a stick buried under the snow on a mountainside. The scope slammed down on a rock and we as hunters always worry about a scope getting knocked out of whack. I checked it's zero and it remained spot on. The scopes and rings need to be durable and it was a good test. I definitely wouldn't have purposely dropped my rifle on a rock to test this! But it was a great test of durability none-the-less!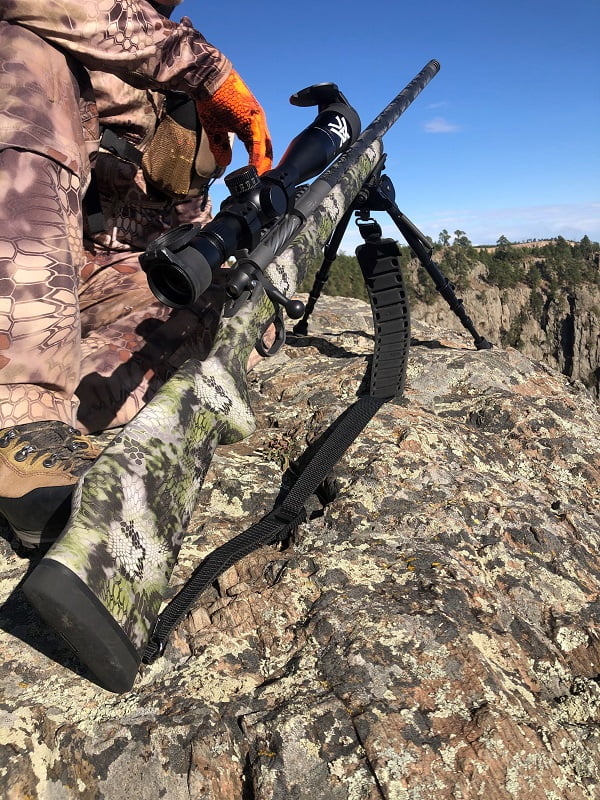 I enjoyed using the scope and I really liked the red illumination of the center dot. The bleed over didn't bother me but it could sure be addressed in the future. I did notice the loss of light from a 50mm scope to a 42mm scope in low light conditions but was to be expected losing 8mm of objective.
End-User
For those looking for an HD riflescope that incorporates long-range capabilities, this is a great scope to have. It doesn't break the bank like many long-range riflescopes on the market today with HD glass. The ZeroStop turret was easy to use and adjust after initial sight in and remained accurate on each of my outings.
With the vast sea of options for riflescopes that are out there, I wouldn't hesitate to put this lightweight scope on a rifle. It is easy to use, incorporates HD glass, and gives you nearly all the options you would need in a scope and then some without all the weight! I have yet to talk to anybody that didn't enjoy this scope when looking for HD glass at a better price point. Available here.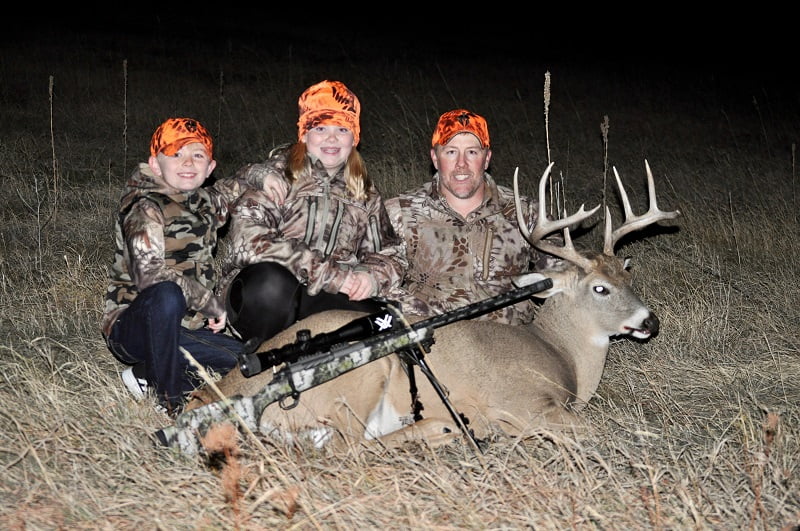 Razor HD LHT 3-15×42 Dimensions (in inches)
Lengths
L1
L2
L3
L4
L5
L6
13.3
2.6
2.0
6.2
3.7
2.0
Magnification 3-15x
Objective Lens Diameter 42 mm
Eye Relief 3.8 inches
Field of View 35.3-7.0 ft/100 yds
Tube Size 30 mm
Elevation Turret Style Locking/Zero Stop
Windage Turret Style Capped
Adjustment Graduation .25 MOA
Travel Per Rotation 15 MOA
Max Elevation Adjustment 80 MOA
Max Windage Adjustment 80 MOA
Parallax Setting 20 yards to infinity
Length 13.3 inches
Weight 19.1 oz
You can comment on this review or ask Jared questions here.
Also check out these other Rokslide scope reviews.