The stalk was difficult for sure.  First, we rode the horses down the spine of the mountain divide to cut some distance.  Then came the sketchy descent through snow-covered cliffs and chutes to get into the burn basin below.  Follow that with a quick and quiet half-mile trek across the burn to a small rocky point I know to be a few hundred yards from where we last saw the bulls.  The wind was good and I wasn't too surprised when I crested the point to see both bulls still bedded where we had spotted them.  The distance was about 320 yards across the drainage. Easily in range of the Mesa Precision Crux Titanium Carbon Hunter. I could see now the bigger bull was a beamed 6 point, but I didn't want to stress the size too much for my 13-year-old daughter, Emma, as she crawled to my location for the shot.
Mesa Precision Crux Titanium Carbon Hunter Rifle
Emma settled behind the Mesa Precision Arms Crux Carbon Hunter 300 Winchester Magnum. Visit the Mesa website here. That's a lot of cartridge for an eighth-grader, but Emma was no stranger to the Crux, already having smacked rocks at 400 yards and beyond during summer practice.  The Crux' titanium muzzle brake was highly effective and easily made recoil comparable to Emma's usual 7mm-08 Remington.  Emma found a steady rest above the snow with a combination of my backpack and the Spartan Precision Javelin Bipod.  Emma rested the Leupold Mark 5's PR1-MOA reticle right in the crease at the front shoulder.  The Triggertech trigger broke clean and the 215 grain Berger Hybrid hit exactly at point-of-aim across the canyon.  The muzzle barely moved at the shot.
Great Performance
I was impressed, not only with my incredible daughter but also with the rifle.  This wasn't first blood with the Crux, either.  It had already accounted for a mountain goat on a backpack hunt at 10,000 feet, and my best ever antelope buck over the wheat fields of central Montana.  In all conditions, it performed.
MPA Crux Action
The rifle starts with the Crux action.  Available in both stainless steel ($1,198) and titanium ($1499) versions, the 75-degree throw, twin lug, push-feed design is timed nicely.  Both actions come with a 20 MOA rail included.  An integrated recoil lug leaves no room for play and it is compatible with most Remington long-action inletted stocks.  The bolt has a unique honeycomb pattern milled in with a tough finish. I didn't have any function issues whatsoever, but it was nice to know that the bolt is field-strippable without tools should the need arise.
The Barrel
Mesa threads on a Proof Research carbon fiber barrel to maintain accuracy and save weight.  The standard barrel is a Sendero Light contour in 1:10 twist, but they accommodated me with a Sendero contour in 1:9 twist catered to longer/heavier bullets for the 300 Winchester Magnum.
Muzzle Brake
Mesa Precision Arms (MPA) also makes their own self-timed muzzle brakes in both stainless steel ($175) and titanium ($225).  I shot the rifle both with the MPA titanium brake and my trusty APA Lil' Bastard brake.  I couldn't feel a difference in felt recoil, but the reduction in muzzle jump was noticeable.  The top ports on the MPA brake were functional.  The MPA brake measured in at 2.6 ounces.
Altitude Stock
The other highlight accessory was the Altitude stock.  The Altitude has a monte carlo porter contour, but hybridized with a fat vertical grip.  I love this stock.  I pulled out the action and weighed the Altitude stock at a feathery 22.7 ounces.  It is easy and instinctual to bring up offhand, but really comes into its own when stretched out prone.  MPA works with AG Composites to produce the stock, which is only available through MPA and has a fair retail price that starts at $599 for a Remington version.  A Tikka version is a bit heavier and runs $625.
Beautiful Craftsmanship
The build of the rifle was impeccable.  It should be at a retail price of $4950.  While that is a substantial investment, it shows in the finish.  The bedding work was perfect.  Getting the action in and out of stock took a bit of effort.  The Triggertech trigger was clean, crisp, and right at 2 lbs.  Feeding and function were hiccup-free.  Mesa offers the Crux Carbon Hunter in popular long range calibers:  6.5 Creedmoor, 6.5X284 Norma, 6.5 PRC, 28 Nosler, and 300 Winchester Magnum.
Accuracy
So far so good, but how did it shoot?  I have been lucky enough to test a number of really accurate rifles.  Rifles that print groups at or below 1 MOA consistently, and with varying ammunition.  The MPA Crux Carbon Hunter is the most accurate hunting rifle I've ever tested.  Consistently, five-round groups with factory Berger and Hornaday ammunition printed under 1/2 MOA.  Often, groups were under 1/3 MOA.  Handloads were similar with some of my old favorite loads (212 ELD-X and 200 Nosler AB) printing in the 1/2 MOA range without any load development.  It was a testament to the MPA gunsmithing and Proof Research carbon fiber barrel.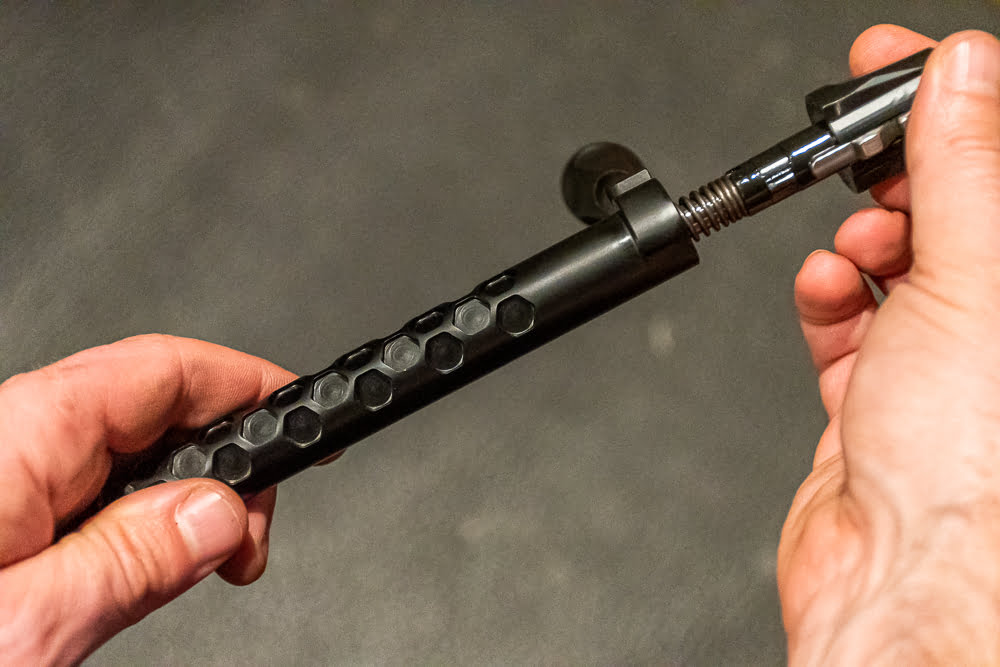 Overall
Field performance was phenomenal.  Having a long-range capable hunting rifle that all-up and ready to hunt was just a couple ounces over 8 lbs. was a revelation.  A backpack hunt at 10,000 feet for mountain goats puts every ounce at a premium.  Unlike previous long-range hunting rifles I've used, the slender Mesa Altitude stock slides right into my scabbard for horseback hunting.  That lightweight and tough, durable finish shined through on belly crawls for antelope as well.  Superior recoil mitigation pays off when your eighth grader can use a light, large-caliber rifle and concentrate on executing the shot without fear of recoil.
The downsides?
$4950 is a lot of money for a rifle.  While this is a downside in that hunters can get good hunting rifles for far less, I still think it is a good deal for the value provided.  Competitors often have similar rifles at an additional $1000 or more.  I have spent thousands on barrels and gunsmithing chasing accuracy with lesser stock rifles.  If you want the Crux Carbon Hunter performance, but can stand hauling a few more ounces, the stainless steel version is available at $3999, which I think is an outstanding deal for a custom rifle at this level. They also have the "Ascent" rifle starting at $3134 with a Bartlein 5R barrel for the hunter that doesn't want or need a carbon barrel.
Conclusion
The Mesa Crux Carbon Hunter is an heirloom quality custom rifle that can be passed from parent to child, but it's happier out in the woods than guarding the inside of a safe.  It is light, accurate, looks great, and shoots even better.  Hunters will be hard-pressed to find a better custom rifle, period.  For those not seeking a full custom rifle, Mesa offers their parts so hunters can build or accessorize their own rifle.  I think the Crux action is a solid foundation to build your heirloom on, while the Altitude stock and Mesa muzzle brake can be an immediate upgrade for many current rifles out there.
You can comment or ask Matt questions here.
Check these other great rifle reviews: