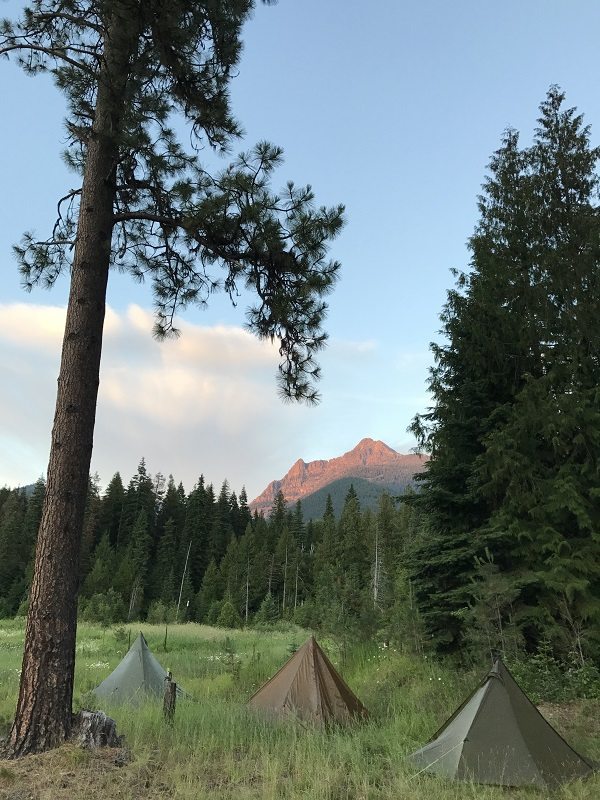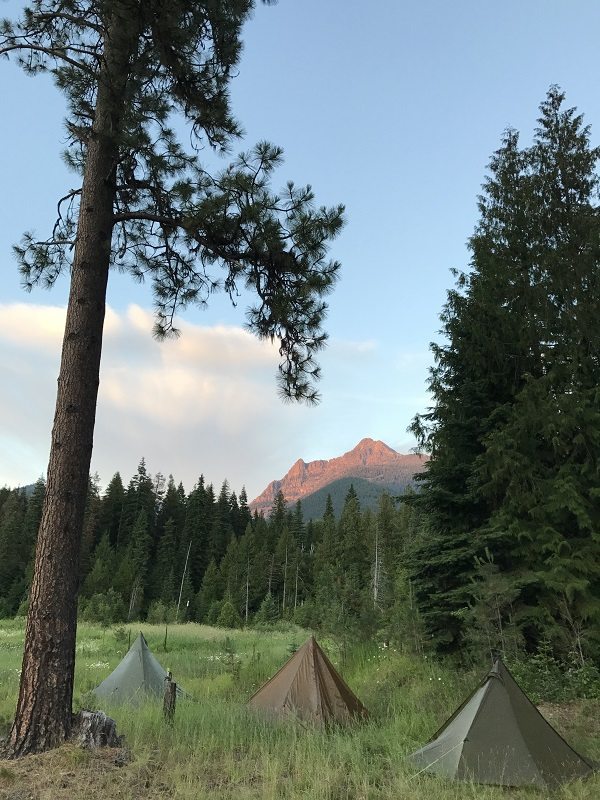 Review: Floorless Pyramid Shootout
By Josh Boyd, Rokslide Contributor
Pyramid style shelters have been around in various forms for well over two decades. A climbing trip to British Columbia over 20 years ago was my first introduction to this style of tent. The shelter was a heavy polyurethane coated nylon model made by Black Diamond called the MegaMid. It was a monster in weight and packed size compared to today's standards, but at the time the floor space and simplicity was unmatched for its overall weight. Over time the shapes, features, and materials have continually evolved. One of the bigger advancements has been the proliferation of light weight silicon-impregnated nylon which allows for a light, weather-tight build and sturdy construction. Combined with stove jacks and small packable woodstoves, it's no wonder floorless pyramids (also called "mids" for short) are popular with the backpack hunting crowd.
Mids are a versatile shelter from the standpoint of setup ease with a great weight-to-usable space ratio. Most have four corners and a single adjustable center pole. Pitching them is as simple as staking out the four corners in a square and inserting the center pole to raise the center. It can be done in two minutes or less. In inclement weather, packs and gear can be covered by the shelter as it is staked out. Most mids have ample room for two hunters, their packs, gear, and even a small woodstove making for luxurious living in the backcountry. Their floorless design also allows boots to be worn in the shelter without the worry of tracking in dirt and debris.
But not all is perfect with pyramids. Their size can hinder campsite prospects due to inadequate level pitching areas which can be at a premium in some backcountry terrain. If not pitched on a level piece of ground the walls tend to flatten slightly causing the interior space to shrink somewhat. Also single wall mids can have condensation issues at times, either from wet ground and/or wet occupants trying to dry out. It can be minimized in different ways, but shelter design plays a role. Adequate peak vents help as does the ability to raise the bottom edge of the walls. Liners can help but they add additional weight and bulk as well as complexity to what is supposed to be a simple, efficient shelter.

The Black Diamond Megalight was the first pyramid shelter I used for backcountry hunting. It is an update from the old shelter I used a few decades ago with improved peak ventilation and modern silnylon fabric. I've spent countless nights in this shelter in every imaginable type of weather; from hot sweltering, bug-infested, to week-long downpours, to below freezing, blowing snow storms. It is the baseline to which I can compare other shelters of similar shape and size, which is exactly what I did this spring and summer. I tested and compared three additional models of pyramids of similar size and took detailed notes of the features, construction quality, ease of use, and likes/dislikes.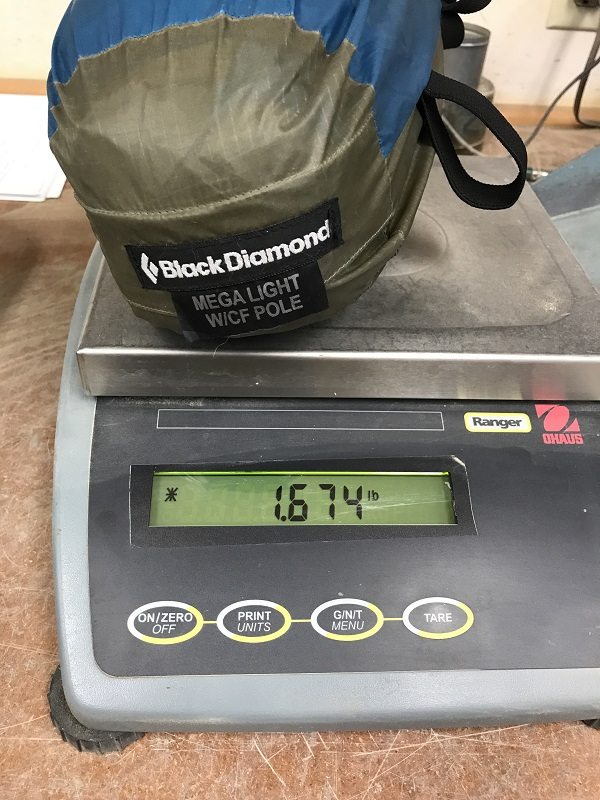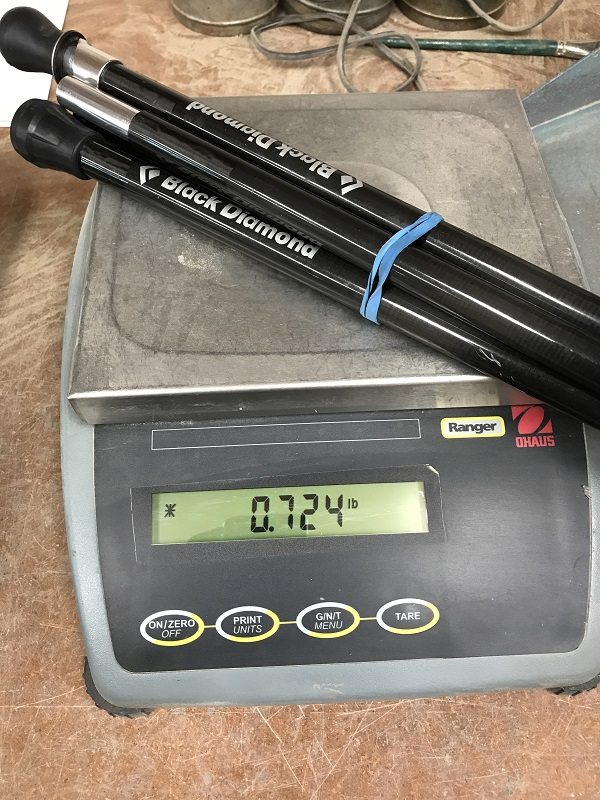 The shape is a basic four-sided shelter that pitches extremely fast. Of the test shelters, it is the lightest and most compact in its stuffed form. It has a single door at mid panel with a two-way zipper that when partially unzipped, allows for extra ventilation near the center pole in dry weather. The single built-in vent opposite the door has a bendable hoop allowing for maximum ventilation.
There are eight perimeter stake loops, but no additional wall guy-out points which makes this shelter the least stable and most noisy in high winds and heavy snow. The amount of condensation in this shelter is about average as is the amount of fabric sag when wet. The fabric is durable and has maintained its waterproof properties over many seasons of constant Northwest weather. The pole is the second heaviest in the test but also the easiest to adjust with a friction washer securing the pole at height.
What I like:
Light weight.

Small packable size.

Easily adjusted center pole.

Durable

Inexpensive
What I dislike:
No mid-panel or corner guy-outs

No option of a stove jack

Shortest center height of the test

Zipper storm flap isn't very weather tight

Wall fabric flap is extreme in windy conditions
Ideal user: With the smaller initial investment this shelter would be ideal for the hunter who is on a tight budget or isn't really sure if a floorless shelter is the right fit for them.

Kifaru Tut
This shelter is a simple four-sided pyramid constructed of a proprietary fabric that is similar to silnylon but is claimed to be stronger. When comparing shelter fabrics side by side, it is clearly something different with a resilient feel to it. While tough, during testing it developed more fabric sag when wet than the other tents. Although the Tut has the smallest foot print of the group, the steep side walls allow for maximum usable floor space. It has the most headroom of the shelters in the review and combined with its steep side walls, makes the interior feel as spacious as the others.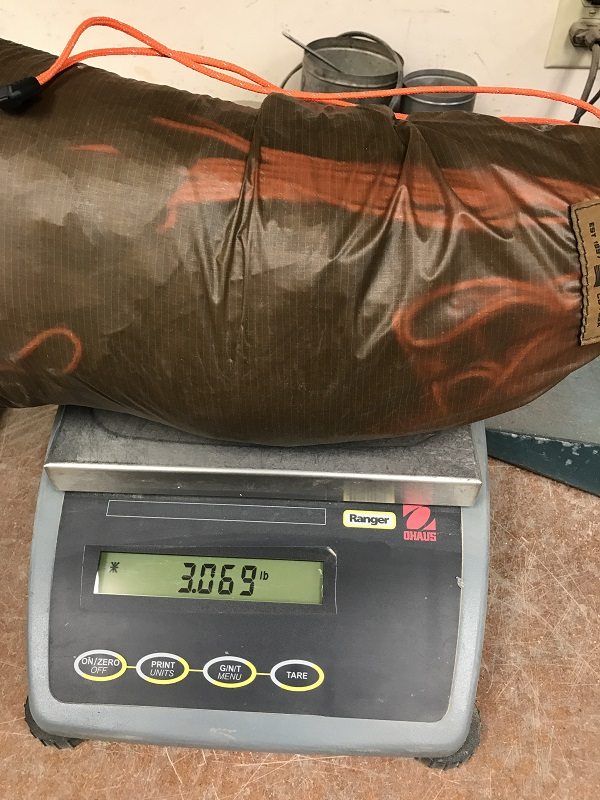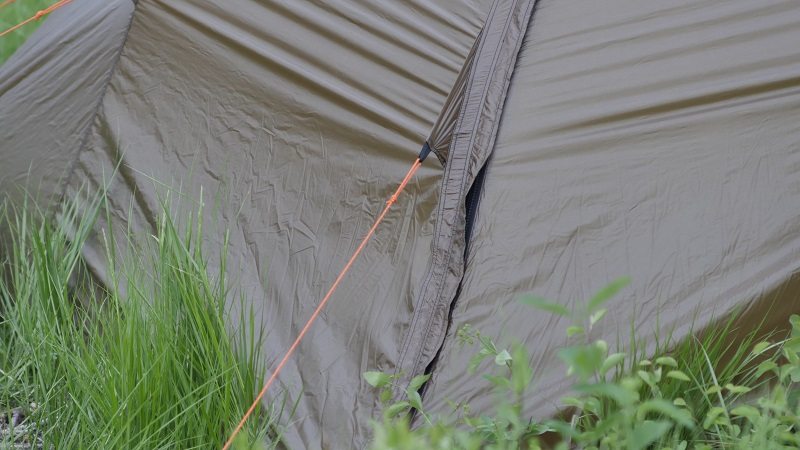 The Tut has eight perimeter stake loops and eight guy-outs which when fully staked out steepen the walls making for more usable space. The guy-outs also add increased stability in high winds and their unique flat shape didn't seem to affect the aerodynamics of the tent. The center pole is heavy duty aluminum; by far the heaviest but hardiest in the test, and easy to use and adjust. The stove jack is held in place with Velcro and can be removed and covered with a regular material patch when not needed. I found the stove jack area would leak at the Velcro interface under a steady heavy rain.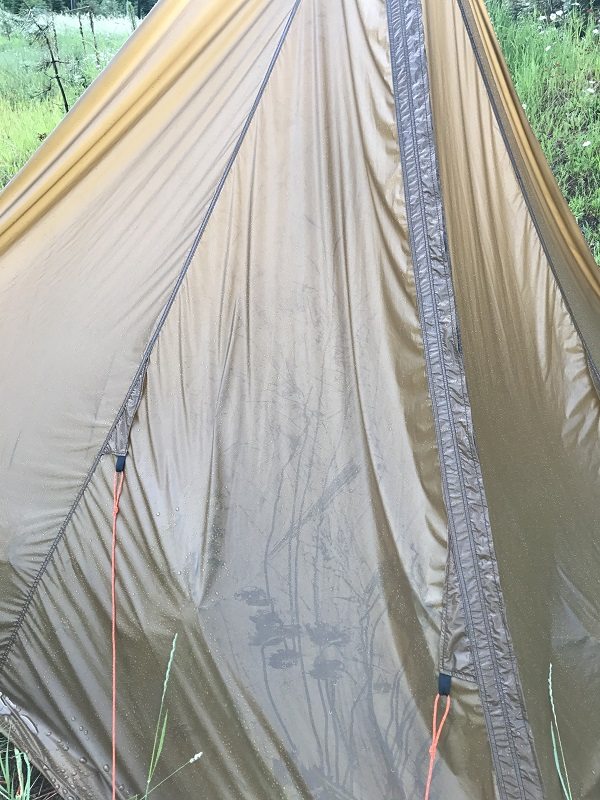 There is one door and it is located on a corner allowing for the adjoining panel to fully open in nice weather. The zipper is an extremely large and tough two-way and is useful for venting in nice weather. There are not any dedicated vents in this shelter and condensation was on the heavy side under wet conditions.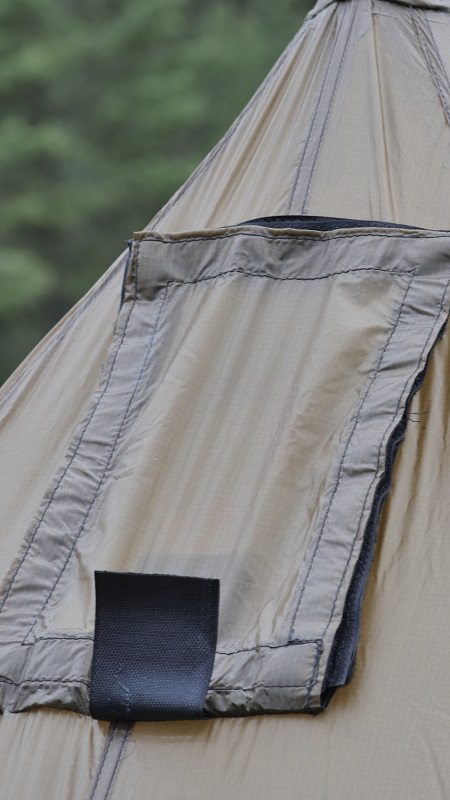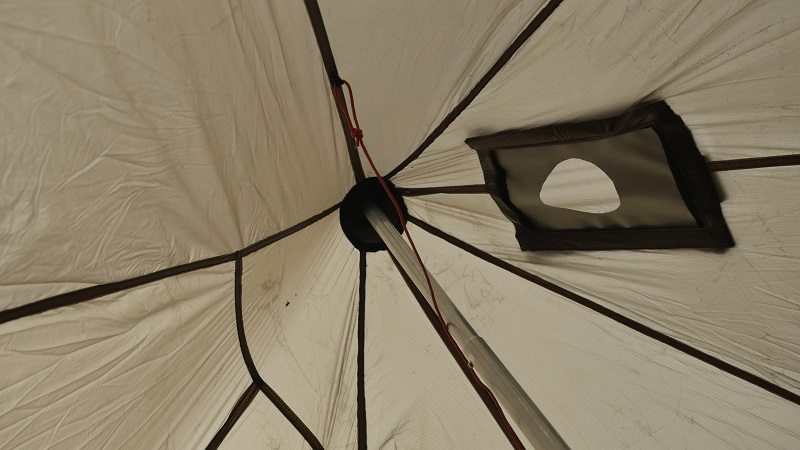 What I like:
Sturdy construction and fabric

Corner door location

Steep sidewalls

Tall center pole with generous head room

Robust zipper

Ample guy-outs
What I dislike:
Lack of venting options

Leaky stove jack

The heavy center pole

The amount of stretch with wet fabric

Expensive
Ideal user: The hunter headed to very remote locations where wind loading is high and the option to leave doesn't exist (fly-in or float hunts).
Mountain Laurel Designs Supermid
The Supermid is another four-sided pyramid with a single door and a large adjustable vent. The fabric is Pro silnylon which displayed the least amount of stretch when wet. The cut of the shelter has a catenary flare to it that allows for a taut pitch; much more than the others in the test. This leads to a shelter that is more stable and quiet in windy conditions, but with less usable space within the footprint of the shelter due to lower angle walls.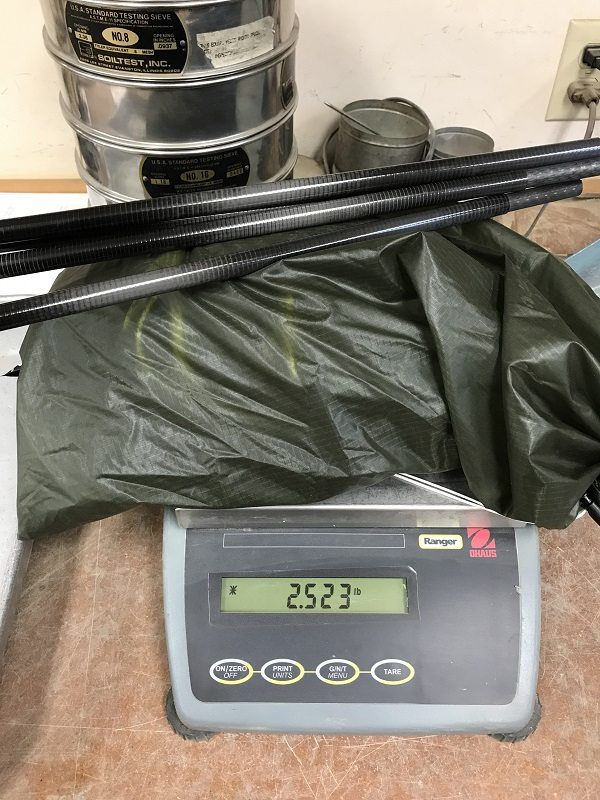 The pole for this shelter is a collapsible four-piece carbon fiber variety that is fixed in length and comes with a small four-inch extension for maximum ventilation pitching or for use as a trekking pole extension jack. This pole is the lightest in the test and during the course of the field review durability was never an issue.
This shelter comes with adjustable LineLocs for the eight perimeter stake loops which allow for a taller pitch for perimeter ventilation if needed. The taller pitch and oversized peak vent helped this shelter produce the least interior condensation of the shelters tested. There is one door in the Supermid and the zipper is a one-way and very watertight with a secure storm flap held down with small snaps. The eight mid-panel guy-outs are a bungee type of attachment that allow for a little give in high winds. During testing, there weren't any issues with this configuration and made for a really quiet shelter.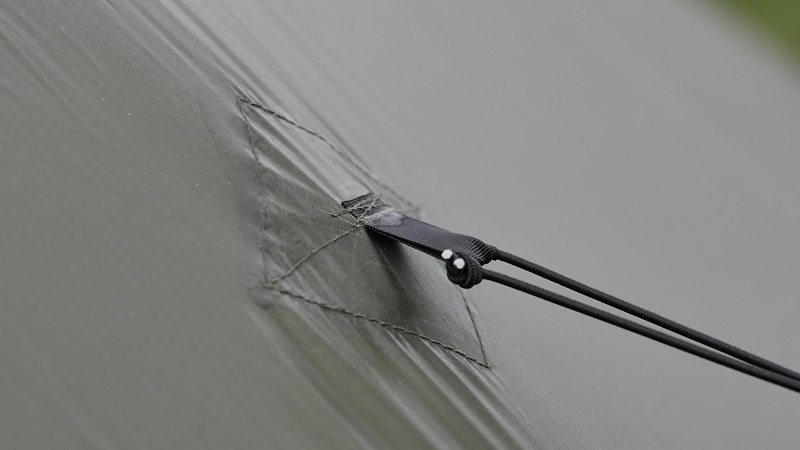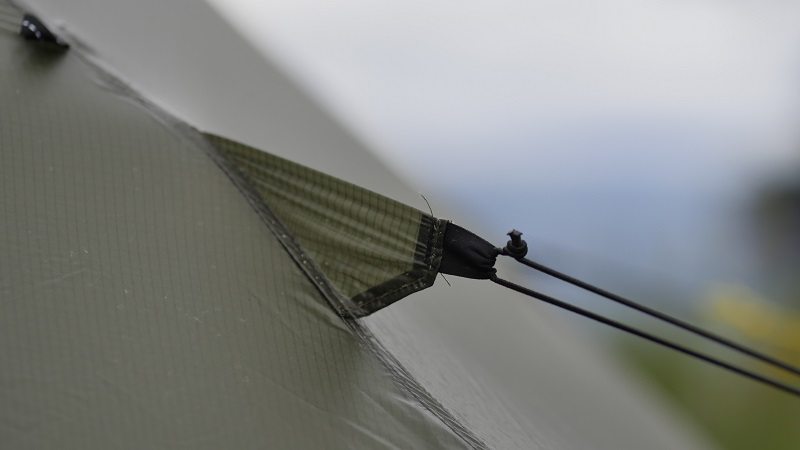 What I like:
Light weight and small packed size

Tight pitch and quiet

Very little fabric stretch

Easy to vent and has very little condensation

Ample guy-out points

LineLocs are very quick to adjust tension

Water tight door zipper and storm flap

Sturdy construction
What I dislike:
Vent can be difficult to close

Storm flap tends to get stuck in the zipper at times

Low angled walls can lead to less useable interior space when pitched tight to the ground
Ideal user: The hunter who is looking for a quiet, lightweight, well ventilated silnylon shelter that excels in most types of weather including windy conditions.

Seek Outside Cimarron
The Cimarron is a six-sided shelter that is a hybrid between a pyramid and a tepee. The extra panels allow for a hexagonal shaped footprint with more interior room without a weight penalty. The shelter is designed with a perimeter sod flap to seal out any drafts or insects in those conditions. During testing rain water collected and pooled on these flaps initiating sag along the bottom edge. Fabric stretch is about average when wet and the fabric needs re-tensioning at times in wet weather.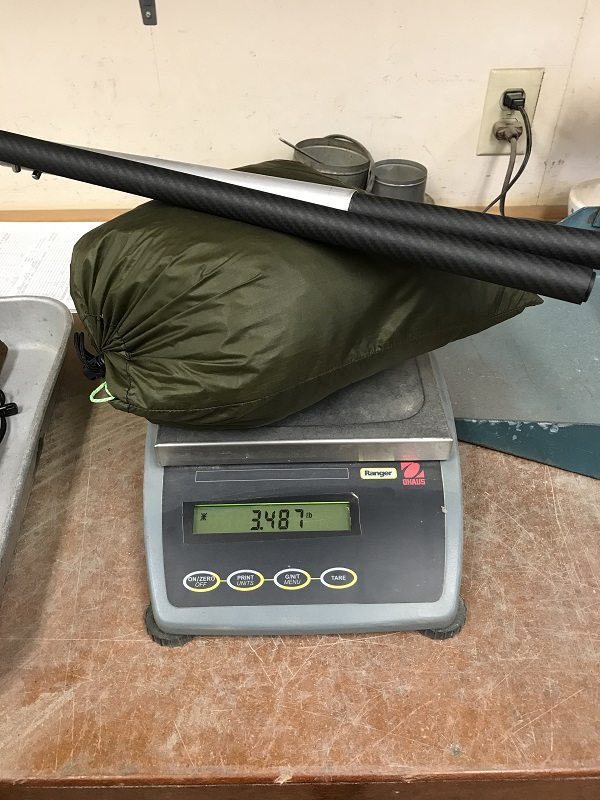 There are two opposing doors which is convenient for two people to have an individual exit. The two-way zippers are robust, high quality, and easy to operate. The storm flap over the zippers is a heavier piece of stiff nylon fabric that is held down with Velcro sewed in several places which work well in most storm conditions but would get lifted in high wind events. It was the least likely to get snagged in the operation of the zipper.

The pole is a four-piece carbon fiber take down model with a short aluminum end piece used to adjust the height. The configuration is simple, reasonably light, and strong. It is larger in diameter than the Mountain Laurel Designs Supermid's pole making for a stiffer center pole.
There is ample head room in the Cimarron when pitched at its full height and is the second tallest in the test. There are two mid-panel guy-outs on the non-door panels but I was wanting corner guy-outs at times for more stability in high winds.

The shelter has one closable vent in the top and when the two door zippers are opened a small amount near the top, condensation was not an issue. In wet weather with the doors completely closed, condensation was about average for a single wall floorless shelter. The stove jack in this shelter is weather proof when not in use and in a location that optimizes the space for two people running a stove.
What I like:
Large footprint

Excellent venting attributes

Double opposing doors

Non-snagging zipper storm flap

Well-designed stove jack

Light and strong center pole
What I dislike:
Water build up on sod flap

Storm flap can be less effective in high winds

Lack of corner guy-out lines

In windy conditions the fabric flap can be excessive
Ideal user: The hunter who wants a large draft-free interior space with a well placed stove jack for late season cold weather hunts.
| | | | | |
| --- | --- | --- | --- | --- |
| | Black Diamond Megalight | Kifaru Tut | Mountain Laurel Designs Supermid | Seek Outside Cimarron |
| tent weight w/stakes and guy lines (lbs) | 1.67 | 3.07 | 2.23 | 2.86 |
| pole weight (lbs) | 0.72 | 1.18 | 0.29 | 0.63 |
| total weight (lbs) | 2.40 | 4.25 | 2.52 | 3.49 |
| square FT | 81 | 69 | 81 | 94 |
| max height | 57" | 78" | 70" | 72" |
| fabric | 30d Silnylon | proprietary | 30d Pro Silnylon | 30d Cordura Silnylon |
| stuffed size(inches) | 10×5 | 22×6.5 | 16×5 | 10×12 |
| pole material | carbon fiber/alum. | alum. | carbon fiber | carbon fiber/alum. |
| pole length fully extended | 76" | 81" | 74" | 72.5" |
| pole length collapsed | 19.5" | 23" | 20" | 18.5" |
| pole included | Yes | Yes | No $90 | No $92 |
| stakes | 8 | 16 | 14 | 10 |
| guy line tie outs | 0 | 8 | 8 | 2 |
| perimeter stake loops | 8 | 8 | 8 | 8 |
| vents | 1 | 0 | 1 | 1 |
| doors | 1 | 1 | 1 | 2 |
| stove jack | No | standard | optional $60 | optional $55 |
| factory seam sealing? | No | No | Yes $50 | Yes $45 |
| extra options available | bug net w/floor $290 | none | inner net $225, perimeter bug net $75, floor $135 | 2 person nest $179, screen door $85 |
| base price | $290 | $650 | $385 | $369 |
You can ask Josh questions or discuss this article here