Stone Glacier Skyline Bino Harness
If you are reading this review, we most likely have something in common: we are looking for the perfect bino harness for western hunting.   Like many of you I assume have, I've tried many different brands and models looking for a harness that checks all the boxes.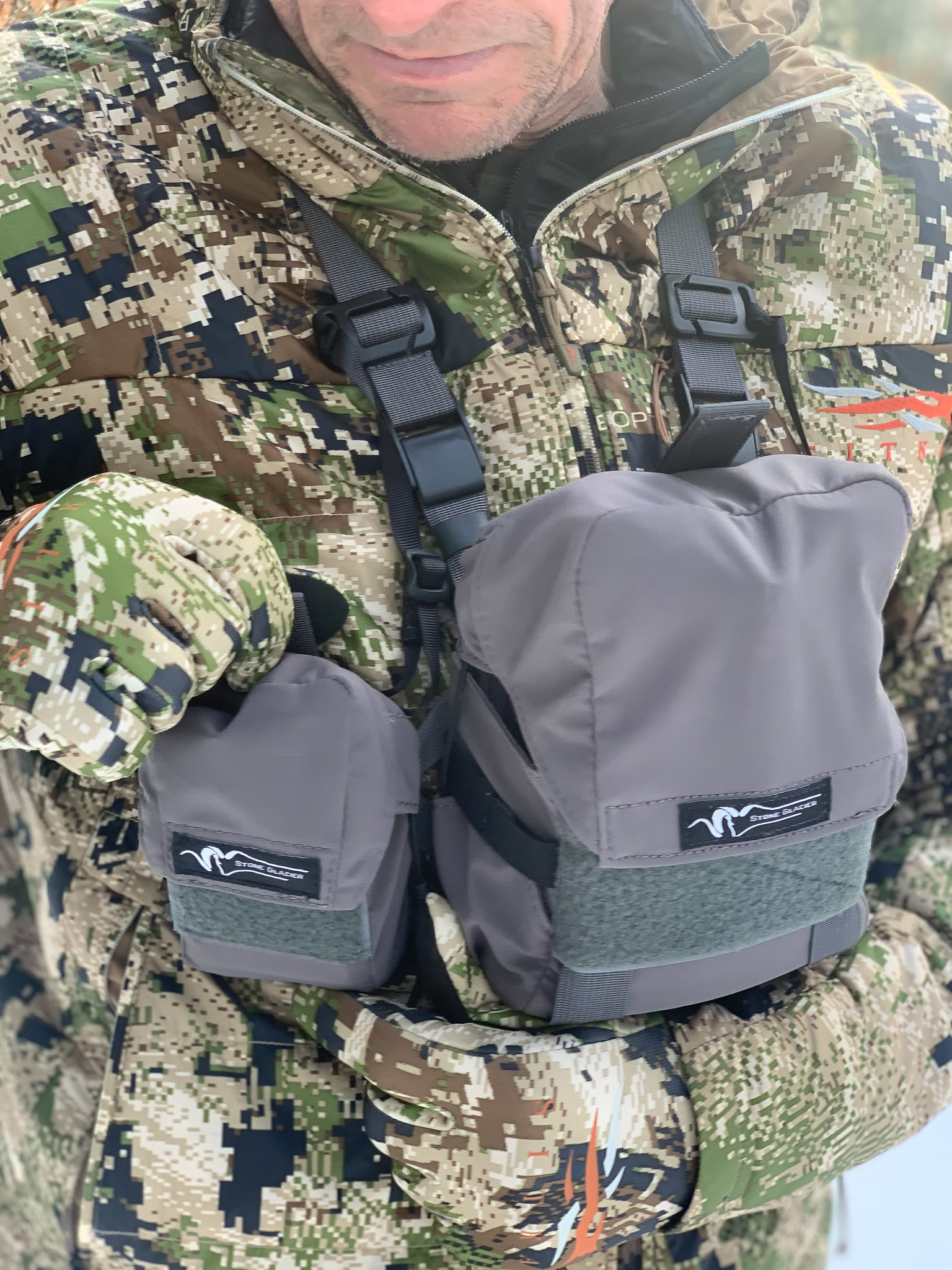 Lucky for us there are dozens of different companies designing different harnesses that cover a wide range of different styles and applications.  This year, after a lengthy testing period, Stone Glacier brought to market the Skyline Bino Harness.  Which is made in the USA.
First Impression
I was asked to review the Skyline System in the late fall of 2020 and I accepted.  My first impressions were that the system was well made and designed.  This wasn't thrown together just to meet a demand from customers; this thing has unique features that I have not seen in other harnesses.  It was obviously well tested, too.  It's also light, at 8.8oz, keeping the ounce counters happy.
OptikFit
The harness gives you the ability to adjust the height to fit your exact binos.  They call this their OptikFit and this size (medium) will fit binos up to 7" tall.  A large version should be hitting the market by the time you read this. It will fit range-finding binos and optics taller than 7".
I tried multiple 10×42 binos in the harness from Swarovski, Leica, Maven, and Leupold, and they fit great.  My Leica HD-B Geovids are tight front to back but still fit.  There will be an overlap in sizing in the two sizes so if you are using 12×50 binos they would fit tightly in the medium and more comfortably in the large.
Easy To Adjust
Setting up the harness to fit whatever bino you are using is fast and simple.  Once you do it a couple of times, it's easy and fast to change it to fit other binos.
Skyline Bino Harness Construction
The harness is constructed out of a 3-layer waterproof material that they call Hydrasheild.  For a waterproof material, it's very quiet and soft.  Compared to other harnesses that use a stiff Cordura type material, the Skyline feels smooth and sleek.  There is a structured foam/HDPE panel inside the Hydrasheild in the front face of the harness body that gives the harness its rigidity.  There is a removable closed-cell foam pad on the interior floor of the harness that keeps your glass protected.  Two side pouches are good for calls and a wind checker.
The lid operates by pulling forward, and with 10×42 and smaller binos, it opens and closes flawlessly.  The only time I had any issues was with my Geovids, but jumping to a large would fix that.  With 10×42 and smaller binos, the lid completely covers the binos.  The harness has a removable retention cord that has a unique quick-release clip.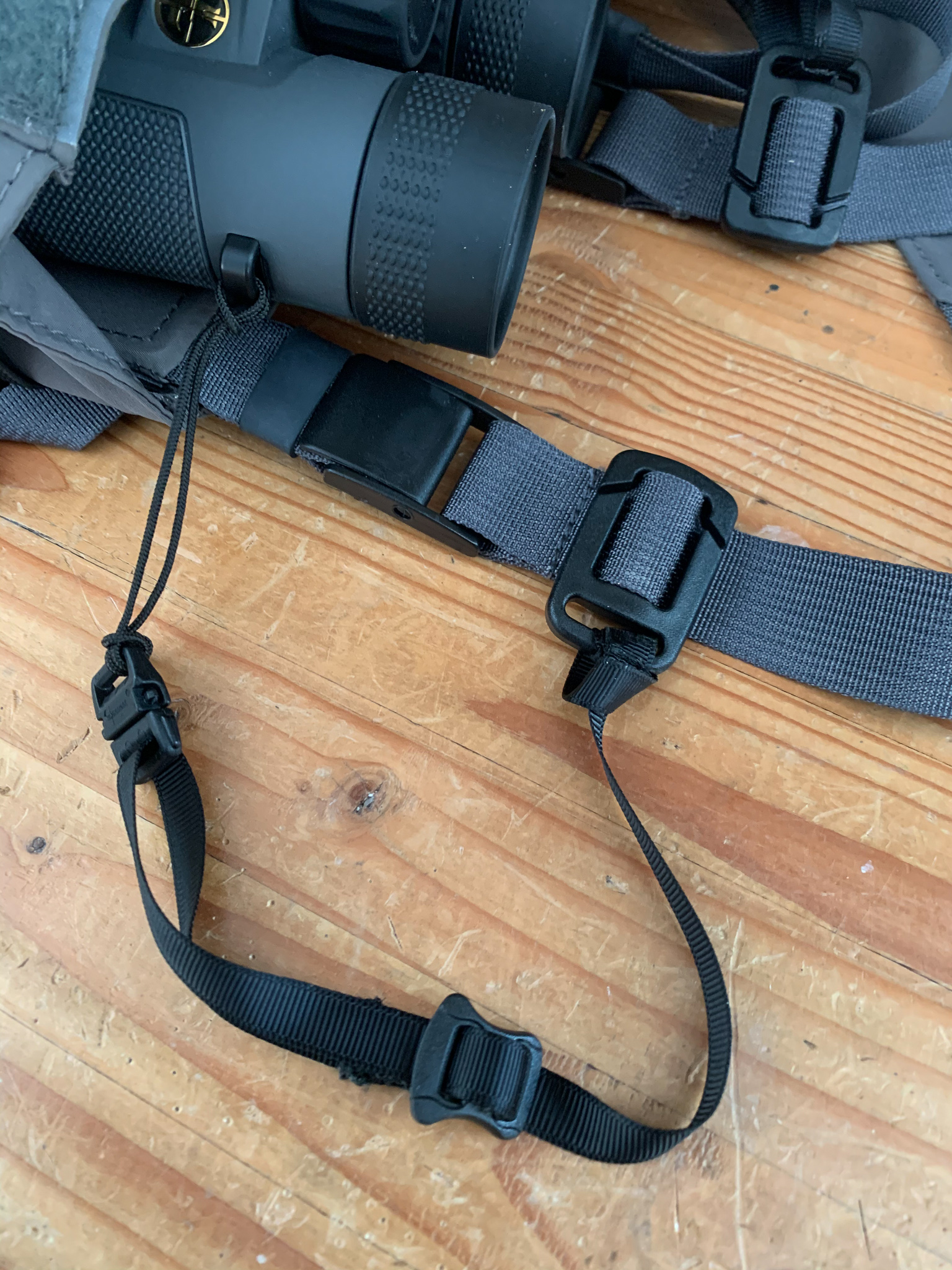 I Like The Sleek Design
The Skyline harness is not as bulky as many others and feels compact on your chest, I really like the size.  The webbing feels great on the shoulder and did not create excessive heat on my back.  I really like how high the harness rides on my chest. I can't stand harnesses that slump down towards my stomach.  The buckles are larger than I would like but this will increase the abuse they can withstand.  There is a small pocket in the rear that faces your chest that is perfect for tags and other thin items.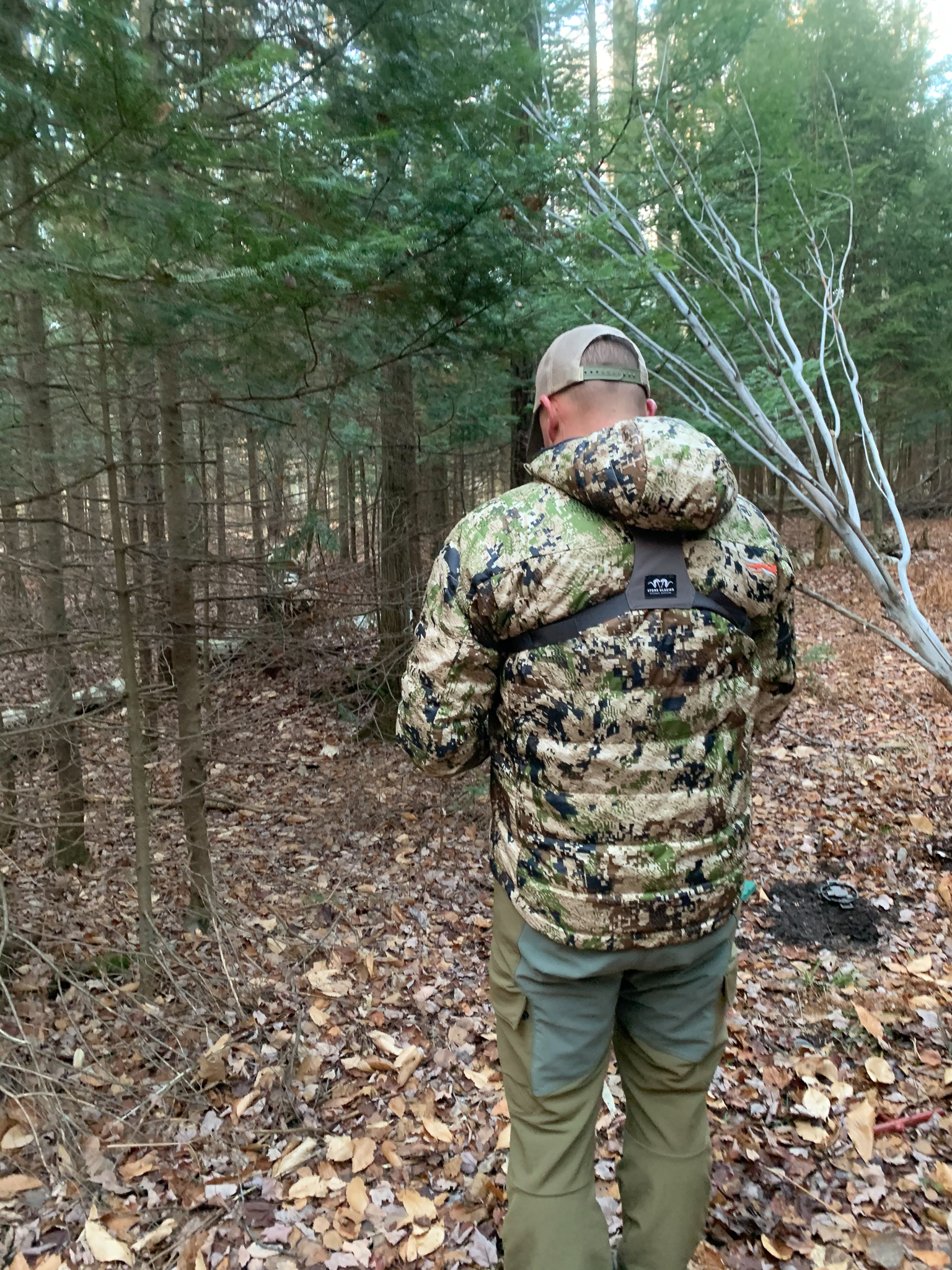 To complete the Skyline System, Stone Glacier also introduced the matching Range Finder and Bear Spray holsters.
Skyline Rangefinder Pocket
The Skyline Range finder pocket is made with the same adjustability as the bino harness and fits almost all compact range finders on the market.  It's made with the same waterproof 3-layer HydraSHeild material. I was able to adjust it to fit a couple of different models from Leupold and Leica.  The RF Pocket comes with an extension strap that is made to keep the RF pocket next to your bino harness and reduce bulk behind the RF pocket.  I was worried about the large Velcro flap causing noise and irritation against my chest but it has been silent, secure, and caused zero discomforts.
The RF pocket does not have the HDPE structure like the bino harness and it would occasionally cause the pocket to collapse as I was attempting to insert my RF back into the pocket.  In a shot situation, if this happened, you could just drop the RF and the short retention cord would keep your glass safe.
Skyline Bear Spray Holster
The Bear Spray holster is designed to ride under the bino harness but also be able to quickly be removed and transferred to a hip belt of your backpack.  It is very fast to move it and makes it easier to always have it in the best possible location at all times in bear country. The same attachment points on the bottom of the harness also work with holsters like a Razco.
Field Testing
I didn't receive my Skyline System until late fall so I was not able to use it for most of my hunting schedule but I was able to use it hunting predators in December and January.
I also used it on a recent trip to test some new broadheads with Bill from Iron Will Outfitters.  There, I was able to quietly operate the bino lid and RF pocket lid with some of the spookiest whitetail does I have ever seen within close range.  It might not be what the harness was intended to be used for, but it proved to me that it's plenty quiet.
Conclusion on the Skyline Bino Harness
I like the harness and look forward to a larger size for my Geovids.  In my opinion, this harness is a great option for a hunter looking for a compact, waterproof, completely enclosed harness with well-designed features.
Stone Glacier is offering the Skyline harness System in Stone Grey and Coyote Brown. The Skyline Bino harness is $119.00 with the Range Finder Pocket $35.00 and the Bear Spray holster $25.00.
You can get your Skyline system here.
You can ask Tony questions or join in the lengthy conversation, including input from Stone Glacier owner Kurt Racicot here.