Tract Optics, located in Pennsylvania, prides itself on producing quality optics for less. The scopes have no middle-man markup as they only sell directly to customers. The scope I received sells for $994.00. I did a review last year on the UHD Toric 30MM 4-20X50 FFP MOA PRS and loved it. I received the Toric UHD 30MM 2.5-15X44 FFP MRAD for review this year. Right out of the box, I noticed it had a very similar build.

Toric UHD Hunting Riflescope
It's a one-piece tube built like a tank. A couple of differences are the 2.5-15 Hunter is slightly sleeker due to the objective lens. I weighed the 2.5-15x at 28.2 ounces versus the 4-20x at 33.85 ounces. The 2.5-15x doesn't have an illuminated reticle which isn't a big deal for me, but I know some may not like that. They make the same scope with a BDC reticle with illumination. This scope also comes with a covered windage knob and a smaller turret. More info here.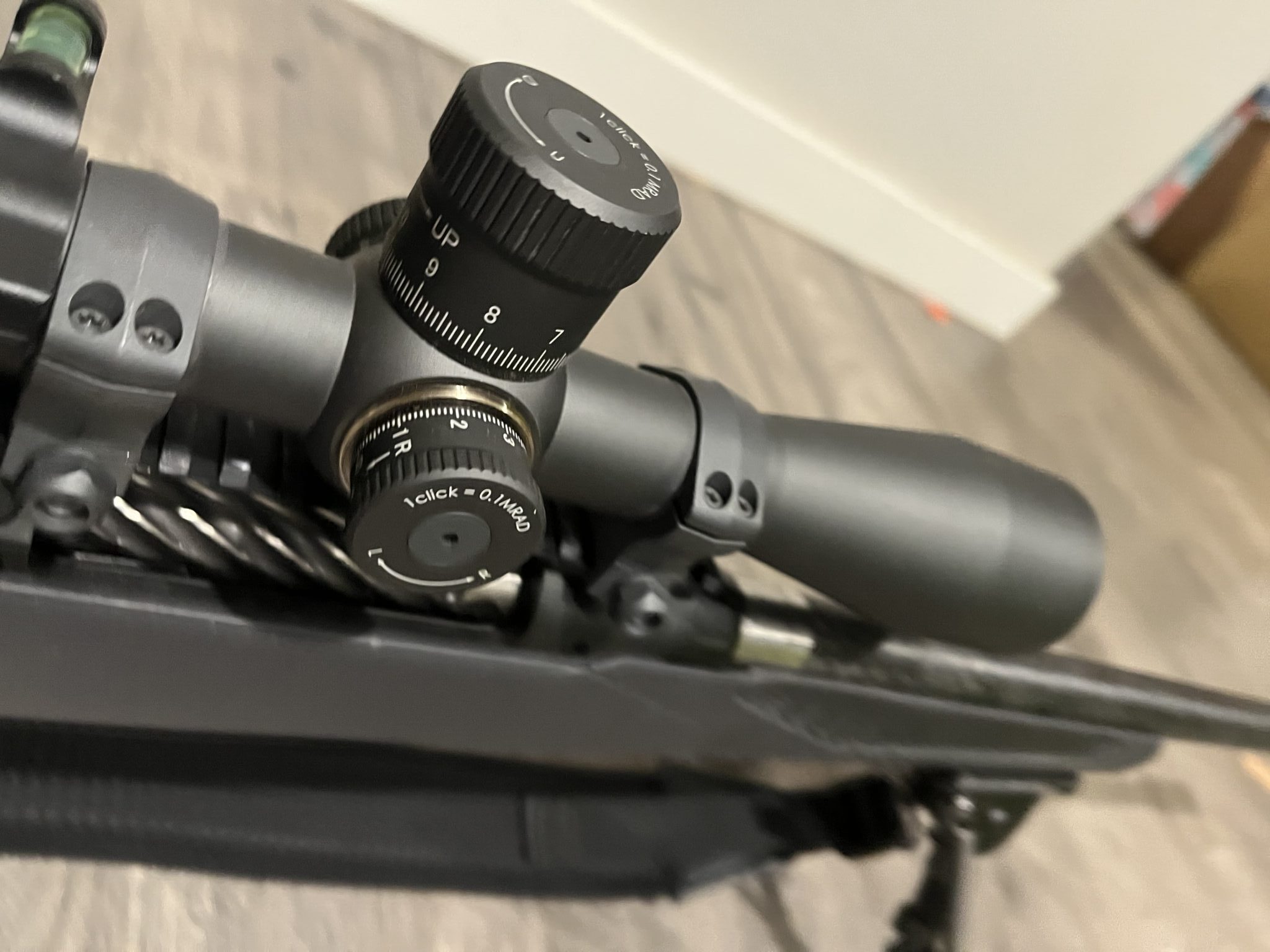 Capped Windage Turret
I like that the high-quality cap quickly comes off and on. The windage turret is large enough to turn with gloves on and has very solid audible clicks, similar to the elevation knob. Many shooters prefer to use the reticle for windage, and the cap ensures the turret doesn't get turned in the field by mistake. I've had that happen before and didn't catch it. I also had a friend whose kid turned a windage turret a full rotation, causing them to miss a bull.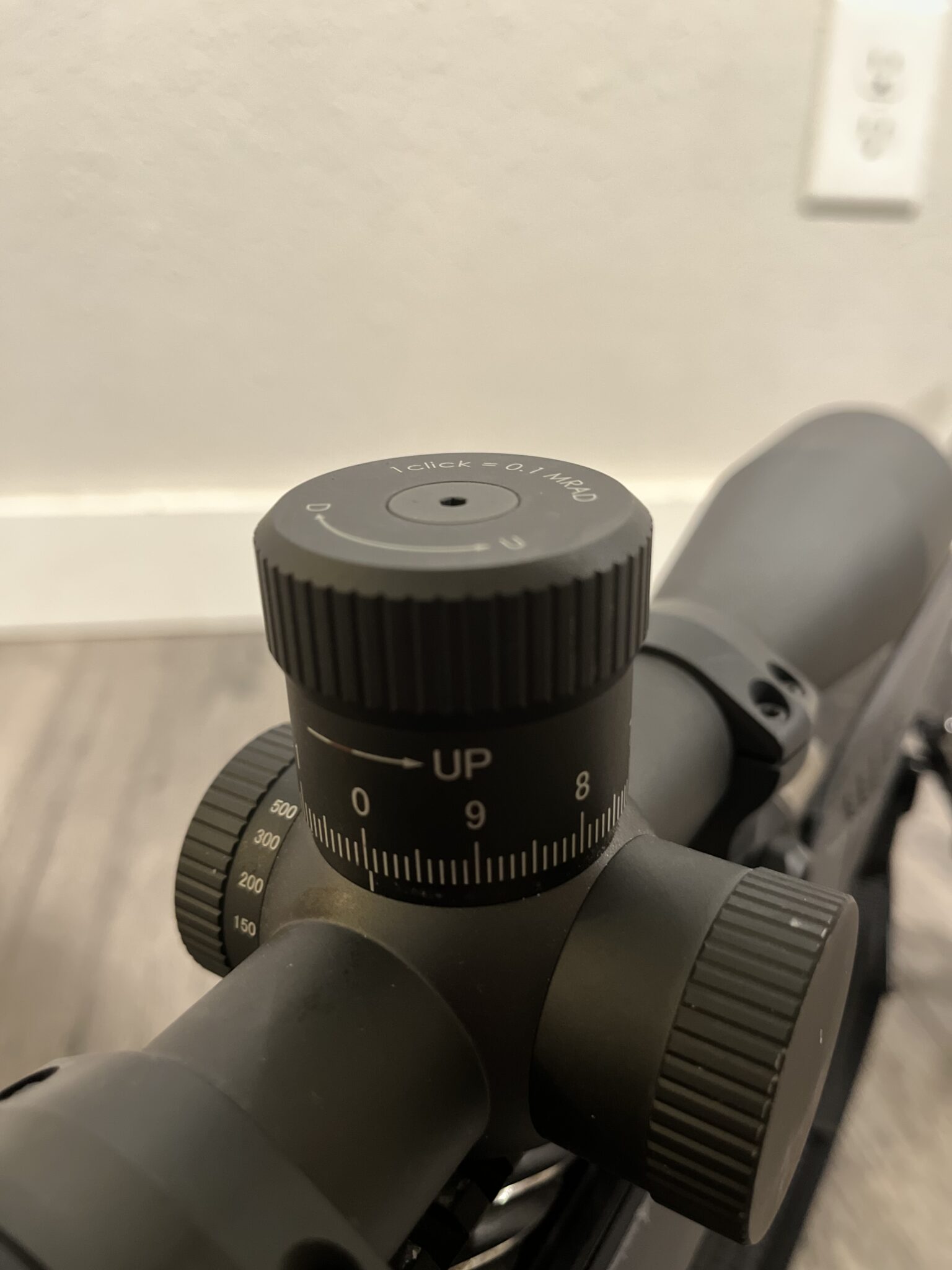 Elevation Turret
The elevation knob is just like the 4-20x and is just awesome. It comes with a zero stop and is locking. You just quickly pull up and turn. Clicks are very solid and audible. I checked, and it has 31.1 MILs of travel.
Power Ring and Parallax Knob
The power ring is very smooth and easily turns even in cold temps. As is the parallax knob which has yardages printed on the knob. I like that this gets me a good point of reference.
FFP MRAD Hunting Reticle
The reticle is MRAD which is very practical and easy to use. However, due to being a first focal plane, the sub-lines are a bit larger than I would like on high power. This is partly due to the 15x limit, and it's a little smaller than I like on low power (the case with any first focal plane scope.)
Due to the reticle being solid all the way through, shooting tight groups is a little harder than when shooting the 4-20x with the PRS reticle. That floating 0.14 MOA dot reticle has really grown on me. I shoot my tightest groups with it. However, for hunting, this isn't an issue.
Head To Head With Zeiss and Nightforce
I ran it side by side with a Zeiss V4 4-16 44 MM and Nightforce NXS 5.5-22x50mm, just like I did with the UHD Toric 30MM 4-20X50 FFP MOA PRS. It compared it favorably in low light and clarity.
Range Time
Testing at the range, I quickly zeroed it and ran a tall target test. It was perfect. The MRAD reticle aligned perfectly with the dial and tall target. I've been using MOA scopes predominantly for a while now, and I had to keep remembering what I was doing while making adjustments.
When I took it out for longer ranges, I was able to shoot out to 1200 yards as well as 800, 500, and 1000 yards. Each time the Tract dialed perfectly.
Parallax adjustment was excellent, and the yardage marks seemed right in line. I had a good picture with clarity at long ranges and found it easy to find targets in the scope.
A Dislike
I had one issue at long range. I like to shoot smaller rocks or spots at random ranges. The thick reticle covers some smaller targets more than I prefer. I got used to the floating PRS crosshair that makes it easy to see everything. Not an issue for long-range hunting, but if you are shooting prairie dogs at long-range, it might be an issue.
Bad Weather Wasn't An Issue
I got to take it out in bad weather quite a bit: under 10 degrees, raining, snow, & wet thick brush.  But it stayed clear.
The target knob is so big and easy to turn that I was able to do it with very large gloves—even through the gloves, you can feel the positive clicks.
A Versatile Hunting Optic
One thing that I appreciated was the low top-end power. We have a lot of brush in North Idaho, and short, quick, shot opportunities are normal. But I still always carry a long-range scope because across-canyon shot opportunities are almost as common. I was able to get my rifle on target quickly with the 2.5x min power. Faster than any other long-range scope I have tried. I really like the UHD Toric 30MM 2.5-15X44 FFP MRAD versatility.
It Is A Little Heavy
My biggest gripe is the weight, but I have similar scopes that are 4-6 ounces less but feel more fragile. So, the trade-off is the confidence that the scope will hold up. I also just like the PRS reticle on the UHD Toric 30MM 4-20X50 FFP MOA so much that it will be hard for me to pick the 2.5-15x over it.
Conclusion
Since I have gotten to use Tract scopes over the last couple of years, I found them to be super rugged, precise, and dependable. The Tract scopes have become my go-to scope. If I'm going on an important hunt, I'm bringing the Tract. Order here.
Comment or ask Jim questions here.
Check out our other optics reviews.