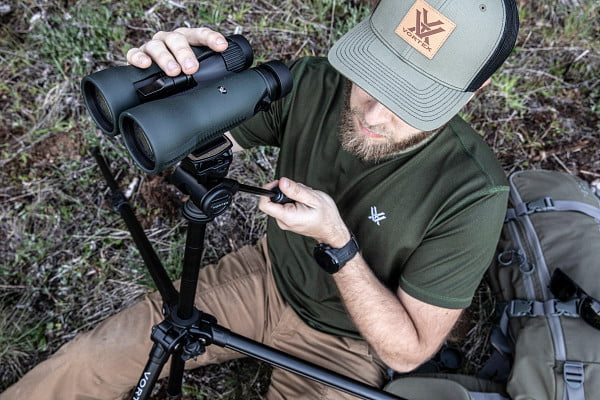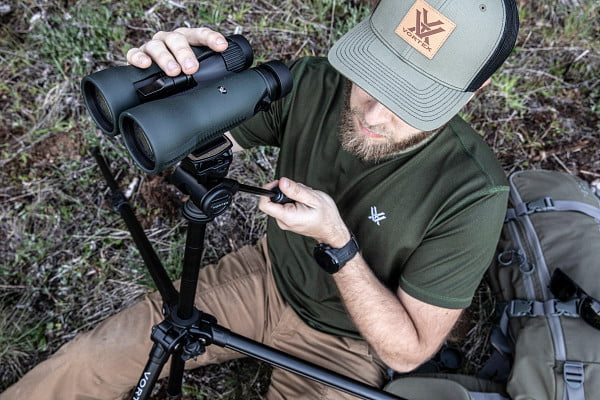 It's no secret that one of the biggest factors when it comes to looking at glass is the dollar amount. You generally have to spend higher dollar amounts to get better glass. A higher price point usually means higher quality glass with options of higher magnification as well. Several optic companies offer different price levels and quality of glass to help fit the budget of any outdoorsman/woman but there can be a big difference in quality between price points. After all, that is to be expected with nearly any product, right? For example, you pay a lot more for a Ford Super Duty diesel pickup truck than you do for a Ford Ranger, both new and on the lot will do many of the same things that we need them to do. But so many different features and advantages to the bigger pickup truck. Right? But don't forget, the smaller pickup fits someone's budget and will be more than adequate for them and could be for you too and also hold many advantages as well.
Vortex Diamondback HD 15×56
Before I get too far off-topic and down another rabbit hole, I want to talk about a new optic from Vortex Optics that I had the opportunity to review: the new Vortex Diamondback HD 15X56 roof prism binocular. These are advertised as a tripod specific binocular. These binoculars come with all the things we would expect like having the HD optical system, shock, fog, and waterproof, purged with argon, rubber armor, and dielectric prism coating. It also comes with their new GlassPak case, lens cloth, neck strap, rain guard eyepiece cover, and a tripod adapter.
Before this binocular was introduced, the highest power you could get in the Diamondback line was 12X. Vortex introduced the 15X in the Diamondback line to fill the void in many ways. They could introduce a higher magnification optic with a much lower price point. The Kaibab is an 18X56 binocular but is about $400 higher in price, so this was a great fit in the Diamondback lineup.
First Impression
I received a writer's sample, so I didn't have a chance to open a Vortex Optics box with these like I usually do. I only received the binoculars wrapped in packaging material in a box. But when I looked at their website I noticed that they come with everything that I listed above. I was quite surprised to see that they come with a tripod adapter, which I did not receive with the testing of the product. No other binocular that I have tested comes with this and that is a huge benefit!
Included Binoharness
The new case called the GlassPak looks like it has more protective features than that of their other pack systems they offer. It is enlarged with more padding to give this tripod binocular more room and protection. I can only assume that it can be mounted directly to the outside of a backpack and also used as a binocular harness. While I was bummed I didn't get to test these new features, I was still excited to see what they offered with the purchase of the binocular all at the same price point.
Fit And Feel
The ergonomics of the binos fit well in my hand and they were comfortable to the touch. Some binos just feel awkward but these felt great and are not as bulky and heavy as I imagined. They fit right in the same compartment as my 12X50 Razors do in my bino harness. This would be a great optic for long-range glassing practices. It is noted that these are meant to take the place of a big, heavy spotting scope for those long venture backcountry type hunts but remember to bring a tripod to take advantage of their full potential on those hunts.

Field Testing
A big concern of mine was going to be the inter-pupillary distance measurement that these optics had–that is the measurement between your pupils from one eye to the other. My personal inter-pupillary distance measurement is around 54 millimeters, I knew I could have a little trouble with these as they say they adjust from 59 to 76 millimeters. However, I had an easier time looking through these than I did the Vortex 18X56 UHD's that I reviewed recently with an inter-pupillary measurement of 56-76 millimeters.

Quick Hand Held Test
I walked out onto my deck after opening the package and looked out several hundred yards and peered through the new glass. I was pleased to see how well images cleared up when using them freehand without the use of a tripod. They were much more stable than that of the 18X56 UHD binocular but is largely due to the 3X difference in power. I quickly realized that I could sure use these Diamondbacks freehand without the use of a tripod if I wanted to. That was a huge plus for me as I don't always take my tripod with me on hunts. They remained comfortable in the hand and all adjustments were easy to make to get them focused.
Brightness and Sharpness
The exit pupil measurement is 3.7 mm to aid in light gathering. Anything under 3 mm makes it more difficult in low light and the 56 mm objective only adds to its light gathering capability. The HD glass seems to have become a standard offering with many of the Vortex binoculars these days for rightful reasons. The sharper images it produces and less eye fatigue are what I like most about them. While this HD glass did quite well, it doesn't have the clarity or sharpness of the Razor line that Vortex has to offer, but those are at a much higher price point as well making this binocular a better option for some.
I used these on several pronghorn hunts with and without a tripod and was pleased with their performance. Noticeably better performance with the use of the tripod for obvious reasons, but they are very usable without as well. My wife really likes them and almost put down her 10X42 Razors to use these instead for her all-time use binocular. But when in the treestand she realized why they are not beneficial! In the big open prairie, they are a heck of a good optic to have with you!
End User
For someone looking for a binocular that will take the place of a spotter and shave weight from their system, but keep their bank account in check, this is a good option. This binocular is meant for glassing in big country and not your run of the mill thick woods and treestand optic!
Small Price With Big Benefits
Using them in conjunction with a tripod really increases their performance but isn't needed at all times. Weighing in at 34.8 oz and measuring 7.1" X 5.8" is darn good for a 15×56 binocular. They are close to 10 oz lighter than the Vortex Kaibab 18×56 and are much more user friendly as well for me. It definitely needs to be noted that the MSRP of these are $474.99 and selling much less than that at stores. That is a heck of a great price point for the features that are included in this kit.
For those looking for good bang for the buck and want a high power binocular I wouldn't hesitate buying these. This big magnification, lightweight binocular is the best of both worlds and if I had to relate it to the pickup trucks I mentioned above, it would go something like this…It's like buying a Ford Ranger with a 6.7L Powerstroke turbo diesel engine in it for much less the price! Of course all subjective!
Continued Improvement And Great Warranty
Vortex continues to improve upon their quality and offerings year after year and you can trust knowing that you are receiving great products each time you buy. They also continue to listen to customers and adjust their products to fit what the particular demand may be. As always they will also stand behind their warranty as well which many have come to know and love.

Below are the full specs for the binoculars.
Magnification 15x
Objective Lens Diameter 56 mm
Eye Relief 15.6 mm
Exit Pupil 3.7 mm
Linear Field of View 230 ft/1000 yds
Angular Field of View 4.36 degrees
Close Focus 14 feet
Inter-pupillary Distance 59-76 mm
Height 7.1 inches
Width 5.8 inches
Weight 34.8 oz
You can comment on this review or ask Jared questions here.
Check these other great optics reviews out as well: