That is one of the most frequent questions I get asked, yet I find few of these hunters asking have set their budget and goals.  By setting these important parameters, the question of "where" will almost answer itself.
You need to consider your budget (money and time) as you plan your hunts—trust me, tag soup is even more bitter when you're broke and out of vacation.  I don't borrow money or use credit cards anymore, so my budget is based on cash-on-hand versus the value of the hunts in the states I'm considering.  I used to apply/plan hunts with no regard to budget.  That killed my bank account and just as bad, had me hunting units where I logistically wasn't efficient, wasting more time and money.
Many hunters don't realize it costs a lot to hunt far from home.  Triple A and the IRS both put cost-per-mile near 60 cents.  Considering most of us need a truck to hunt, we're going to be even higher.  If you're hunting area is 600 miles away, you'll spend a minimum of $720 per trip.  You'll also lose a minimum of two hunting days in travel.  As I recommend pre-scouting any new area, those figures double!  That cost is fine if it fits your budget and the unit gives you a better chance than something closer to home.
Also, some states' non-resident draw odds are so bad and fees so high, a smart hunter would be wasting money to apply.   If you make a lot of money, it might not be considered a waste.  The only way to know is by budgeting.
You also need to remember that you may draw more tags than you planned, squeezing your wallet and vacation time even more.  Some states allow you to turn tags back for a refund or points reinstatement.  I've had to do this a few times over the years.  However, if you draw several great tags, you're not going to want to turn them back and you need to have enough money and time to hunt them both correctly.  By setting your budget, you can narrow down which hunts make the most sense to apply for.
Setting a goal on the minimum buck you would be satisfied taking home further simplifies the application process.  I set mine on a "big deer."  That might sound pretty subjective, and it really is, but I have some numbers to back it up.
A big deer to me will be at least four-years old (I've lab aged all my big deer and none of them were less than four) and a minimum of 180" gross score or a 30" outside spread.  If you are happy with smaller/younger bucks, great!  It won't take as long or cost as much to accomplish as the available pool of bucks and places to hunt is much bigger.
If you want a 200"+ buck, you need to give yourself 5-10 years and 150-300 days of open season to accomplish that goal.  I base those numbers on what it's taken me—see my article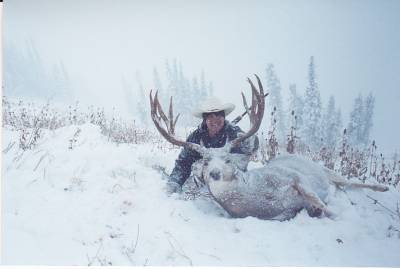 With my goal in mind, I apply and plan to hunt areas that grow my goal deer (I'll cover in a few weeks how I choose those areas) that fits my budget.  I've learned that hunting one or two states gives me plenty of time in the field.  My application process has gotten simpler over the years as I apply for a few low-odds/high quality hunts and a few OTC/easy-to-draw.
Once you have got your budget and goal in mind, you can more easily narrow down the states and units where you need to research and apply.
I'll cover which states I apply for and why in a day or two…
Do you set a budget for your hunts?